2017: Contributed a Book Chapter about Freelance Editors
I wrote the chapter about freelance editors for the book What Editors Do: The Art, Craft, and Business of Book Editing at the request of editor Peter Ginna, for the University of Chicago Press. It's chapter 24, "This Pencil for Hire: Making a Career as a Freelance Editor." The book has received great reviews. If you want to know the details about what various kinds of book editors do and how they do it, buy this book.
2017: Received the Distinguished Service Award from the Council of Science Editors
The Distinguished Service Award recognizes excellence in the performance of specific tasks by members of the Council of Science Editors. I received the award in honor of the tweeting and the posting to Facebook that I have done on behalf of the council since 2009.
2016: Quoted as an Expert in Book on Author Editing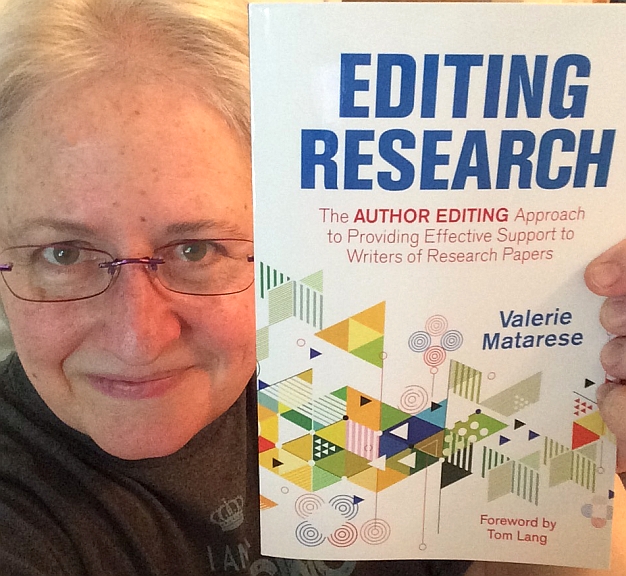 In September 2016, a new, well-researched resource work (paperback) on what authors' editors was published. Editing Research: The Author Editing Approach to Providing Effective Support to Writers of Research Papers was written by Valerie Matarese, a biomedical writer and editor. If you do scholarly editing and work with authors (called author editing) who are multi-language authors—or if you'd like to move into this specialty—this is the book you want. In it, 8 expert authors' editors, including me, provide guidance on this heretofore poorly documented field. This blog post provides the book's table of contents.
2014: Led a Video Presentation about Freelance Medical Editing
On October 28, 2014, I spoke via video conference to the Toronto branch of the Editors' Association of Canada about the opportunities and challenges within the field of medical editing. I shared advice about how to get started, what sort of experience is needed to succeed as a medical or science editor, and how to find work in the field. I also talked about working with multi-language authors. Watch the video (1 hour long).
2014: Traveled to China to Do a Presentation on Good Science Writing in English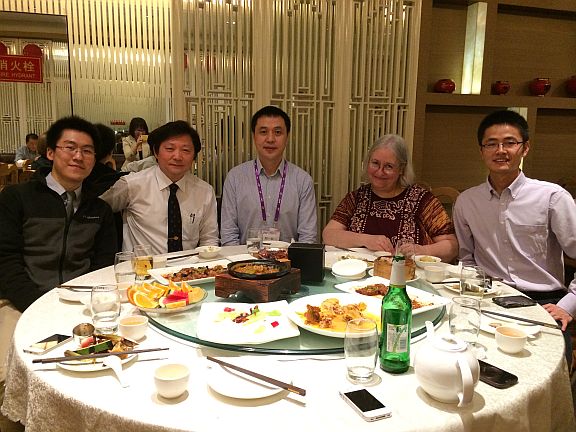 I'm a veteran medical editor who has helped multi-language authors in more than 20 nations get their articles published in more than 50 biomedical journals. Over the years I have developed close relationships with many of my authors, including Yixin Zhou, MD, PhD, who is chairperson of the Adult Reconstructive Surgery Department of Beijing Jishuitan Hospital. (In the photo, my host, Yixin Zhou, MD, PhD, is seated to my right. At the far left of the photo is his student Xingjian Huang, MD. To Dr. Huang's left is Dr. Zhou's friend Yoon Je Cho, MD, of South Korea. To my left is Dejin Yang, MD, who is one of Dr. Zhou's students and one of my authors.)
Because of my extensive experience, I spent the last week of April 2014 in China, at the invitation of Dr. Zhou, teaching English-language writing tips at the 5th Jishuitan Orthopedics Forum in Beijing. Though Dr. Zhou and I have worked together since 2005, we met face-to-face for the first time in Manhattan in 2012, while he was attending a conference in the United States. That was when we began discussing the possibility of my traveling to China, so when I boarded a plane to Beijing this year, I was living a long-cherished dream.
After I finished my presentation, I chatted with several of the approximately 150 authors who had listened to it. One of them, Wei Wang, MD, requested that I stop by his orthopedic department at Peking Union Medical College Hospital and do an encore presentation. It was my pleasure to speak to about 50 surgeons there.
While I was in Beijing, Drs. Zhou and Wang and their staff members took me to visit the Great Wall and the Forbidden City, and they treated me to many delicious meals and great conversation. I will never forget the wonderful people and sights I encountered in China. I am quite grateful to Dr. Zhou for providing me with a fantastic professional and personal opportunity, and I hope to travel to China again one day.
2014: Awarded the 2013 Robinson Prize From ACES

At the 2014 meeting of ACES: the Society for Editing, I was honored by my peers with the 2013 Robinson Prize. I was the first self-employed editor ever to win the award.
Here is how ACES describes the prize:
Nominees are evaluated on a combination of elements, which can include editing, design, mentoring and training, fostering a sense of teamwork and pride among colleagues, and anything else that furthers the craft of professional editing.
"This award isn't designed to applaud the best speller or the best grammarian," says ACES President Teresa Schmedding, who helped establish the award in 2005. "Being a good wordsmith isn't enough. Today's copy editors need to be skilled in conflict resolution, show excellent judgment, demonstrate initiative and be able to find creative solutions to help their publications succeed in this era filled with increased competition."
The prize, first awarded in 2006, is named for Pam Robinson, who helped found ACES in 1997 and served as the society's first president. One of her goals was to make copy editors more visible and to encourage them to take on a more constructive role.